Auto insurance tailored to your needs
Auto insurance is mandatory. So why not make the process more accessible and pleasant. At La Turquoise, our brokers offer personalized service, a wide array of products, a 24-hour emergency service line and will always be there for you after a loss.
INOV coverage with Intact Insurance, very handy coverage
Courtesy car rental in case of an accident

Short-term car rental insurance in Canada and the U.S.
No deductible in case of a hit and run, or total loss

Personal insurance for both policyholder and spouse, in case of accidental death involving a vehicle, increased to $15,000
This very advantageous product from Intact Insurance lets you drive worry-free:
Good Driving Record Protection guarantees that your Intact Insurance premium will not increase as a result of being at fault in one or even two accidents over a five-year period.
Roadside assistance* with up to four services calls per year
Replacement insurance
Replacement insurance by Intact Insurance is a very competitive product, which protects both new and used vehicles. In case of a total loss, based on the option selected, the vehicle can be replaced with a new one of the make and model of your choice, from the dealer of your choice.
Roadside assistance
Need help if you have a problem with your vehicle? Enjoy worry-free driving with our Roadside Assistance Program, which entitles you to four services calls a year.
*Roadside assistance services are provided by an independent third party.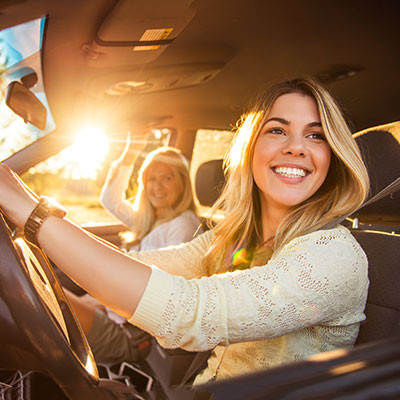 my Drive®
Purchase this Intact Insurance product and get a 5% enrollment discount, plus a discount of up to 20% following based on your driving behavior.
More than one vehicle

With Intact Insurance, insure more than one vehicle (car, ATV, snowmobile, motorcycle) and receive a discount of up to 20%.

RV + auto insurance bundle

Bundle your RV (ATV, snowmobile, motorcycle) and auto insurance and save on your RV premium!

Auto + home insurance bundle

With Intact insurance, bundle your auto and home insurance and save up to 15% on your home insurance.

Theft-deterrent system

Intact Insurance clients can receive a $100 rebate when they install a TAG system.

FADOQ members

FADOQ members can save with our FADOQ FreeSpace® Program. Benefits offered to members include:

No deductible in case of a hit and run, or total loss
Rebate on your insurance policy
Free identity theft protection with Synchro®
Coverage for car accident benefits of $50,000 in case of death, with no extra charge
In case of an accident, whether you're at fault or not, your claim will be paid by your insurer, not the other party's insurer.